Income Producing Tasks
vs.
Non-Income Producing Tasks
Every business can be broken down into 2 simple categories: Income Producing Tasks (IPTs) and Non-Income Producing Tasks. Just like they sound, Income Producing Tasks are the tasks that are actually making money for your business. IPT's can be different for every business but there is a definitive line on whether these tasks are putting money into the business or not.
Non-income producing tasks on the other hand are important and necessary for the business, however these are tasks that can be affordably outsourced so you can focus on the activities that make you money.
Non-income producing tasks include a wide array of activities including administrative work, data entry, social media management, inbound/outbound calls, cold calling, etc. The list goes on and on! These are tasks that below your pay grade. When you can start focusing on just the tasks making money for your business, you will start to realize actual business growth.
Related: Generating Real Estate Leads with Virtual Assistants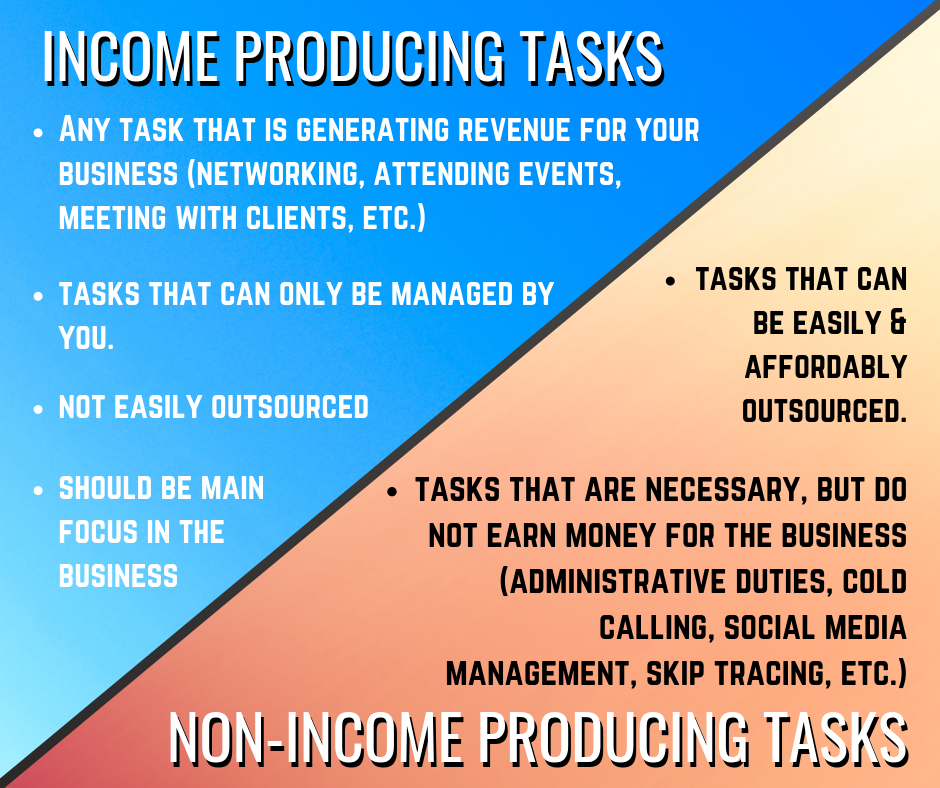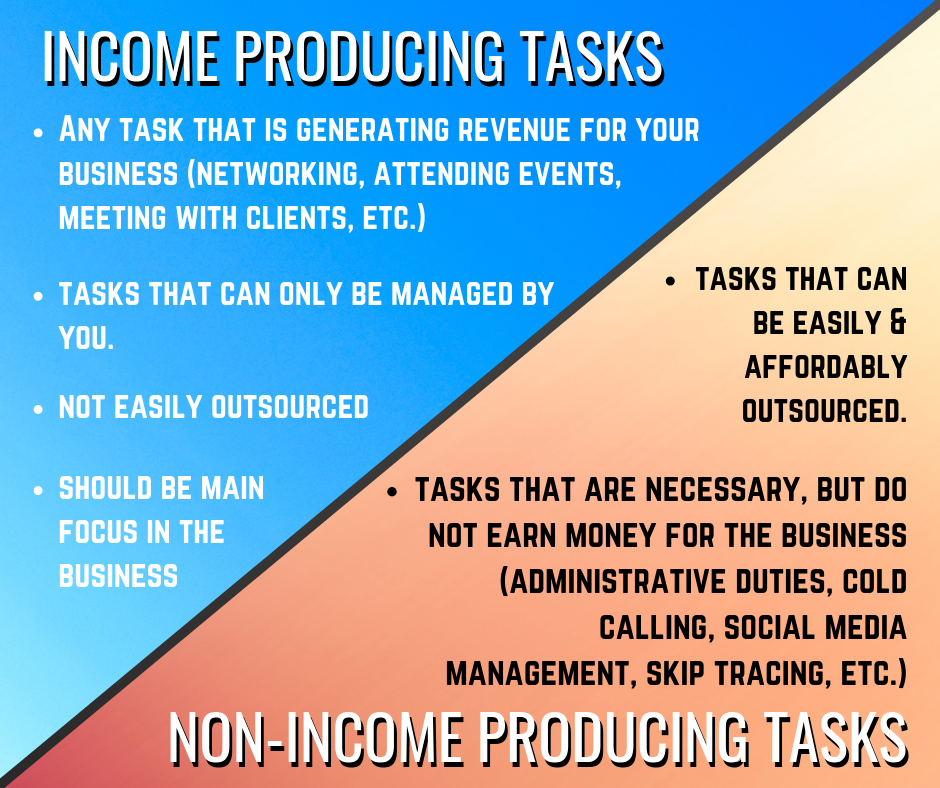 How Do I Start Focusing On IPT's?
In order to begin focusing on the IPT's of your business, you need to INVEST in your business. This will allow you to work ON your business instead of IN your business.
One of the best and cheapest options to invest in is a dedicated virtual assistant. When you invest in an assistant that works according to your systems and processes to handle the non-income producing tasks, you gain back lost time to allow you to focus on the dollar earning activities for your business.
Benefits Of A REVA Global Virtual Assistant?
AFFORDABLE – Virtual Assistants are a much cheaper option for a dedicated team member than hiring locally.
WORK ON YOUR TIME – All virtual assistants work in your time zone and on your hours, so no late-night messages or emails.
PROFESSIONALLY TRAINED – All of REVA Global's Virtual Assistants are already trained in real estate which means less time training them yourself.
COACHES – Our clients will work directly with our Client Services Manager (CSM) to ensure goals are met by the systems put in place by you. Our CSM's work directly with our Virtual Assistants to support them and make sure tasks are completed efficiently on a daily basis. If adjustments or training needs to be done our coaches make certain it is handled.
END OF DAY REPORT – Daily report at the end of the day of the tasks and goals completed by your Virtual Assistant.
CUSTOM PLACEMENT PROCESS – REVA Global has a unique placement process that allows us to match the VA with the right personality to the tasks you need done. Whether you need someone strong on phone calls or someone better suited for administrative tasks, REVA Global will find the best fit.
INTERVIEW SELECTION – You have the opportunity to interview and talk to a selected group of VA's so you can choose who you believe will be the best fit for the position.
VA INSURANCE – If for any reason things are not working out between you and your VA, let us know and we will work with you to find a new VA better suited for the role.
5% HIRING RATE – REVA Global only has a 5% hiring rate for all virtual assistant applicants. This means we are only selecting the best of the best to be a part of the REVA team.
Related: 6 Tips for Hiring Your First Virtual Assistant