With all businesses, the ultimate goal is to grow the business exponentially while providing a valued product or service to the consumers. As many business owners and entrepreneurs have learned, you must make investments in the business in order for it to grow. Investing in employees is one of the largest investments an owner can make for the growth of the business, and that is reflected by the cost.
Virtual Assistants are beneficial for a large variety of reasons, but the affordability is one of the most appealing factors. When compared to a local employee, investing in a dedicated virtual assistant will save you thousands of dollars!
Take a look at this cost comparison chart. We used the average salary of an administrative assistant for this comparison, which is on the cheaper side and doesn't cover all the tasks a VA is able to manage!
FULL TIME EMPLOYEE vs. REVA GLOBAL VIRTUAL ASSISTANT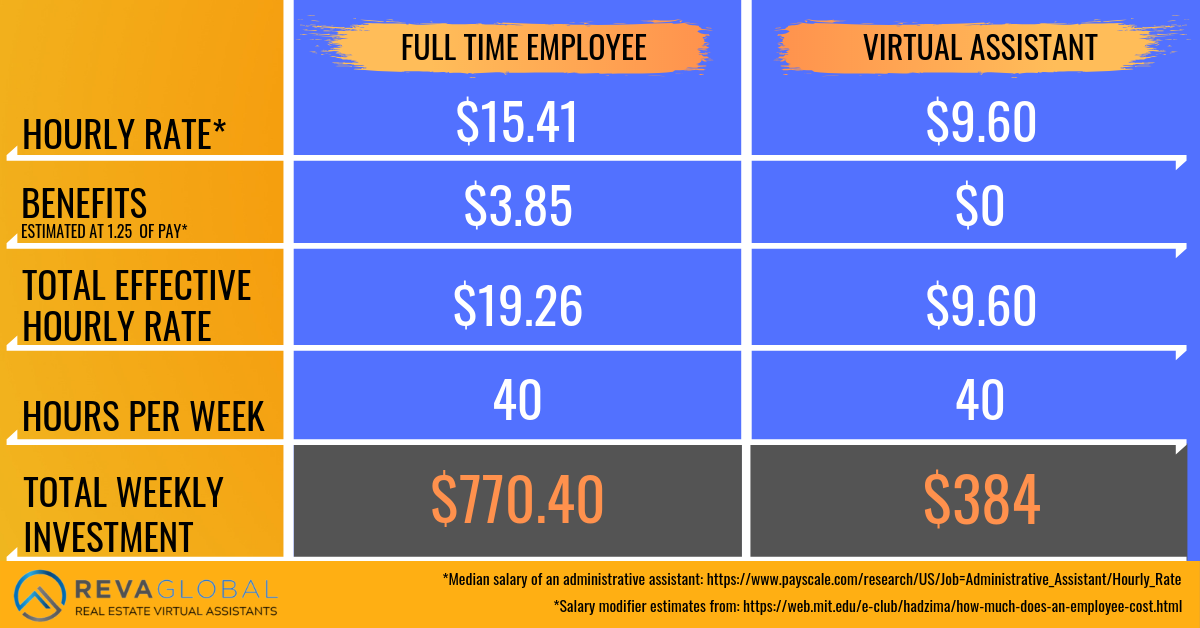 You can end up saving an average of $386 each week, or $1,544 a month! And that's on the low end!
Not only are you saving money, but you are gaining BACK your TIME! So don't waste what your newfound time. To properly scale your business, you must use your regained free time to focus on the Income Producing Tasks for your business.
Watch the video below to hear real estate professional LaDonna Smith break down the costs of hiring a Virtual Assistant.
What About Part Time?
You may be thinking you don't need a full time employee so these numbers don't relate. REVA Global offers both part-time and full-time virtual assistant services. Although you can save much of the cost of the benefits with a part-time employee, there are still the costs of taxes, training, equipment, etc.
In addition, there may only be a small amount of highly talented individuals in your local area that are willing to work part-time. This could lead to a sacrifice in quality for reduced hours.
Why REVA Global Virtual Assistants?
So, you're interested in hiring a dedicated virtual assistant but not sure on which service to choose. Let us make it easy for you! Besides affordability, there is a laundry list of reasons why REVA Global has the most talented Virtual Assistants and here are a few of them:
PRE-TRAINED – All of REVA Global's Virtual Assistants are already trained in real estate which means less time training them yourself! However, real estate isn't the only industry they perform well in! Almost any task can be managed by a REVA Global Virtual Assistant.
END OF DAY REPORT – Daily report at the end of day of the tasks and goals completed by your Virtual Assistant. Ensure your tasks and goals are being met by your systems and processes!
COACHES – Our clients will work directly with our Client Services Coaches to ensure goals are met by the systems put in place by you. Our VA Service Coaches work directly with the virtual assistants themselves to support them and make sure tasks are completed efficiently on a daily basis. If adjustments or training needs to be done our coaches make certain it is handled.
CUSTOM PLACEMENT PROCESS – REVA Global has a unique placement process that allows us to match the VA with the right personality to the tasks you need done. Whether you need someone strong on phone calls or someone better suited for administrative tasks, REVA Global will find the best fit.
Watch Below!
Click the video below to see why real estate professional LaDonna Smith chooses to invest in REVA Global virtual assistants versus hiring a local employee.
Talk With Us!
Let's discuss how REVA Global can help scale your business with our rock star Virtual Assistants! Schedule your FREE Strategy Session to learn more about our services and ask any questions you may have!